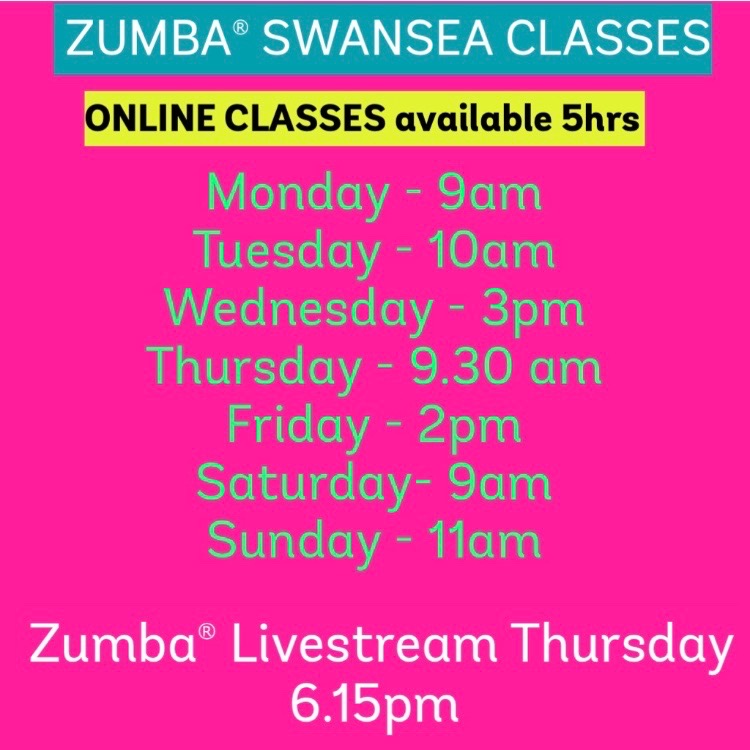 ONLINE VIRTUAL ZUMBA CLASSES (Sun-Thurs)
Please Read All Instructions Below  Before You Shimmy!
1. Please set up a PayPal account.
2. Please SIGN In and Subscribe to zumba.com (just an email and a password required).
3. Click on menu bars and click INSTRUCTORS, and then click FIND AN INSTRUCTOR.
4. Enter JENNY OWEN in the search bar and click SEARCH.
5. Click on Jenny Owen which will take you through to my profile.
6. Scroll down to UPCOMING VIRTUAL CLASSES and click.
Please click on the logo and follow link for PAYPAL (payment is £3.00 per class) and press PLAY ! ENJOY 😉
There is a button saying Contact Jenny any problems send me a message !
Remember a towel xxxxx
Classes are 60 minutes of ZumbaFun 🤗#weareallinthistogether
All Classes Remain Online for 5 hours so you can shimmy anytime of the day 💃
ZOOM LIVESTREAM (Friday)
Please  contact me via jenny@zumbaswansea.co.uk for the Zoom login and payment details.
Please click Into the Virtual World of Zumba and we hope you enjoy your experience with us.
Love Jen x
Zumba Swansea
Zumba Swansea's classes are perfect for everybody and every body! Each Zumba class is designed to bring people together to sweat it on. If you want to burn between 800-1000 calories, Zumba's the place to be!
How It Works
We take the "work" out of workout, by mixing low-intensity and high-intensity moves for an interval-style, calorie-burning dance fitness party. Once the Latin and World rhythms take over, you'll see why Zumba Swansea's Fitness classes are often called exercise in disguise. Super effective? Check. Super fun? Check and check.
Benefits
A total workout, combining all elements of fitness – cardio, muscle conditioning, balance and flexibility, boosted energy and a serious dose of awesome each time you leave class. Why not come along and join our class!!!
#LetItMoveYou
Pretty much the most awesome workout ever.
#ZumbaFitness
Better than therapy!